Integrate control of NETIO PDUs in the SKAARHOJ panels
Turn On/Off/Restart any 110/230V powered device from the with button on your panel.
Monitor power consumption on each output (show values on the display)
The most fundamental function is to toggle power socket output from panel. You can do it locally or remotely, depend where you are currently located. Display on the SHAARHOJ panels are useful to monitor power consumption on each output of the PDU.
Control of NETIO products are assumed to be added to existing configurations, so most often you will want to add a toggle button for a socket to a controller in particular menu. A few defaults configurations exist as well for more generic use.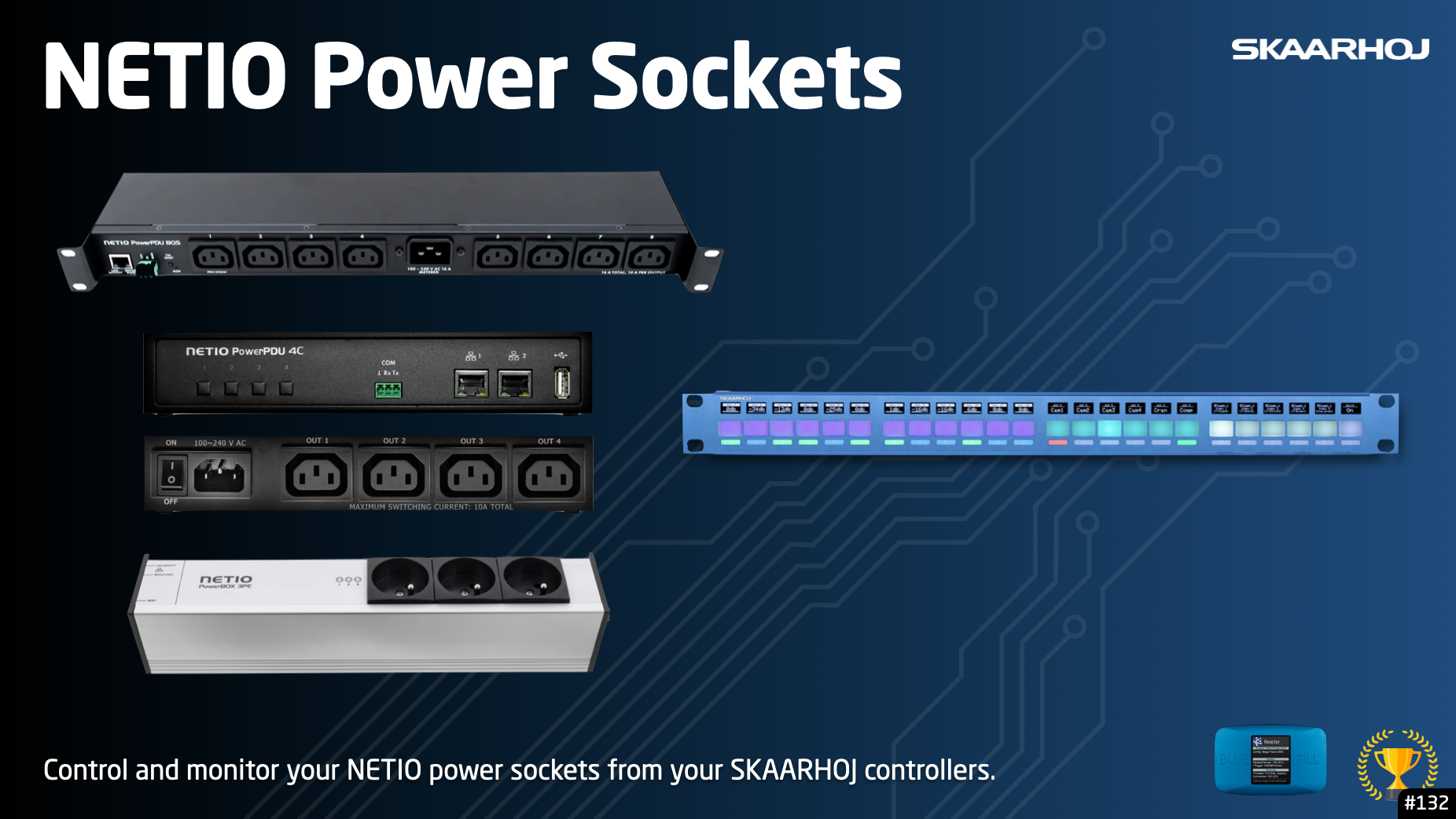 Integration Features
Unlimited amount of NETIO PDU devices can be connected to the SKAARHOJ system.
When adding new NETIO devices, default device configuration can be used.
When adding new NETIO PDU, the local network device search can be helpful.
Output name (name from the NETIO device web configuration) is shown on the small display of the SKAARHOJ controller.
Power consumption [W] or all other parameters can be indicated on the small display above each button. All related parameters can be shown there (UpTime [s], Voltage [V], Consumed energy [Wh])
Pressing button can be defined in several ways. Short button press can request restart for example, long press & hold buttons for 3 seconds power off on defined output.
Together, it's a great for remote production.

SKAARHOJ Wiki - Trophy #132: NETIO Power Sockets
The SKAARHOJ Wiki is central place to find details about integrations within SKAARHOJ eco-system.
Where to download configuration?
There are 3 configurations available:
SKAARHOJ.Devices.Netio.Generic
SKAARHOJ.Controllers.RackPro1.Netio
SKAARHOJ.Controllers.RackFlyUno.Netio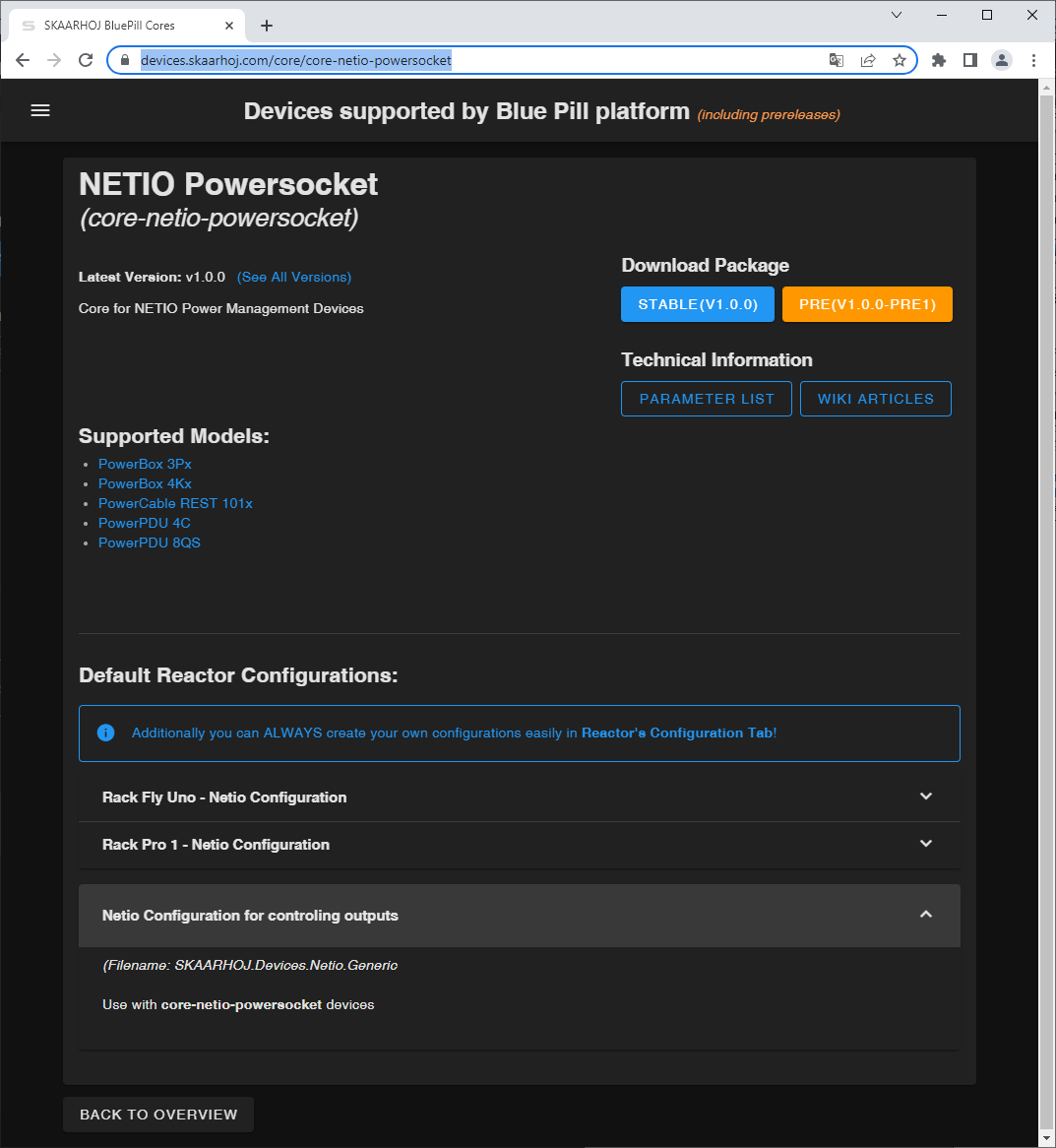 NETIO devices supported by SKAARHOJ
SHAARHOJ is doing their best to support all NETIO PDU devices. In the SKAARHOJ core manual you can find list of supported devices and even functions & variables available for reading energy metering values etc.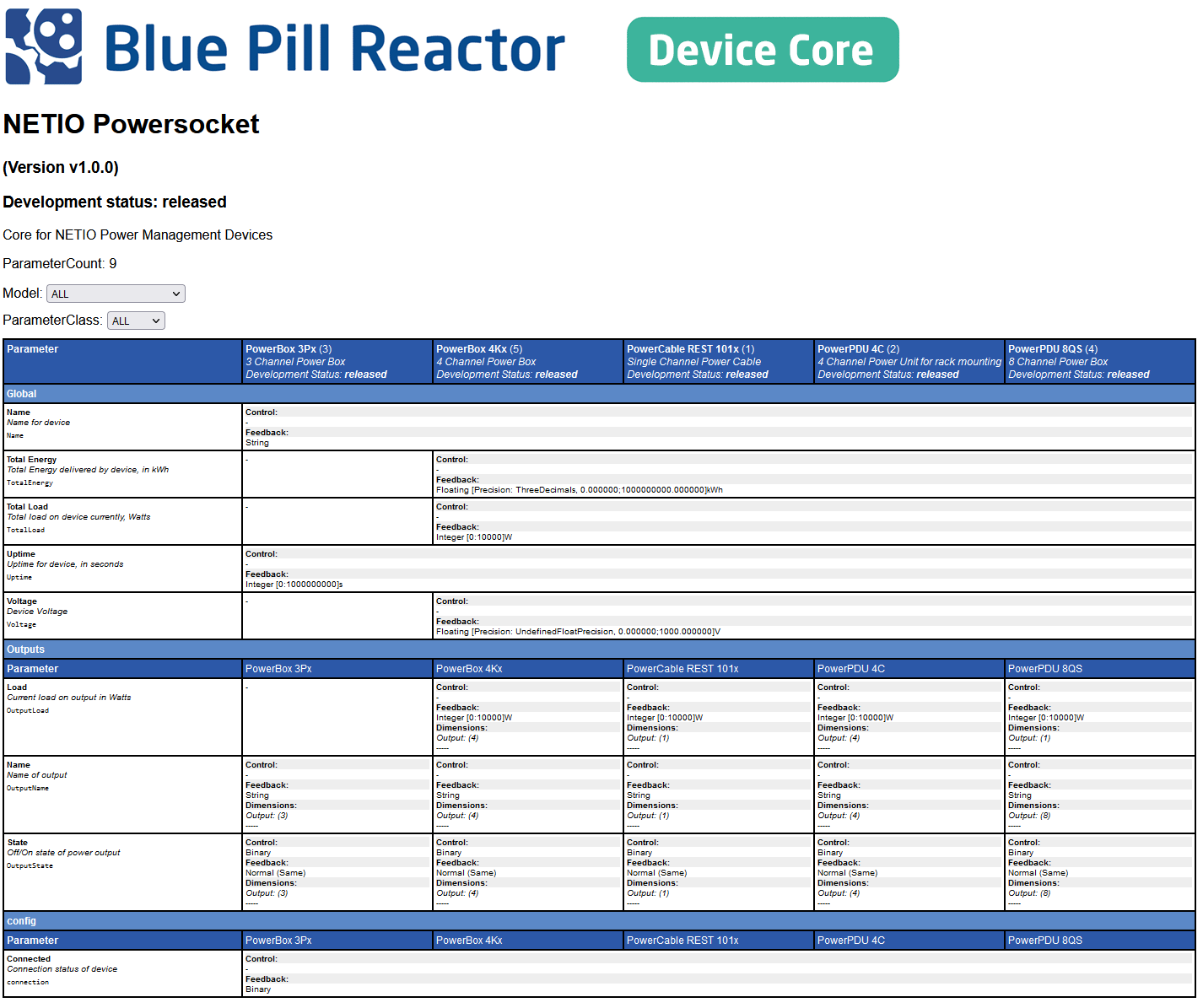 Remote power management with NETIO and SKAARHOJ Blue Pill
With SKAARHOJ you can control a lot of different devices from multiple video production brands. Both locally and remotely, but did you know that you can also control power distribution over ethernet with NETIO using SKAARHOJ controllers? Kasper will show you how in this video:

HTTP - Making generic HTTP requests from Blue Pill
SKAARHOJ is using NETIO PDUs for demonstration how to control any generic http JSON device.
It's useful video, but you don't have to do it in this way, NETIO is integrated in the core of Blue Pill.
In-depth introduction and training session on requesting HTTP REST services etc with GET and POST methods from your SKAARHOJ Blue Pill device. You will learn how quick and easy it can be done as well as a more structured and parameterized approach which even includes polling for status and get that into Reactor.
How to connect NETIO PDU to your SKAARHOJ system
Add NETIO PDU manually: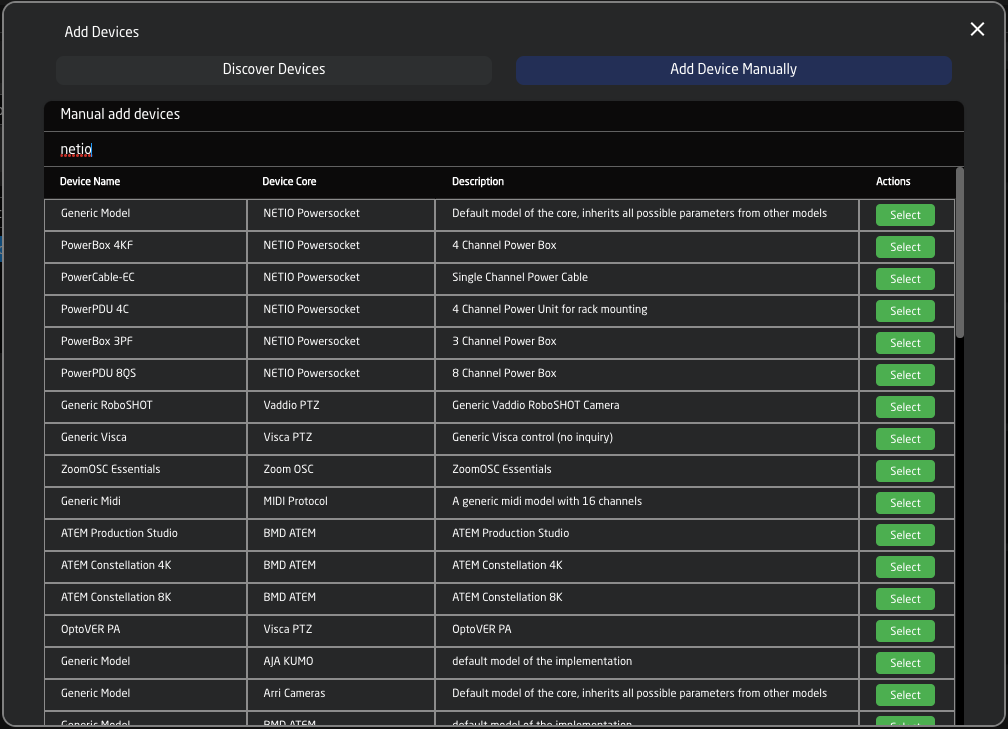 Select configuration for NETIO: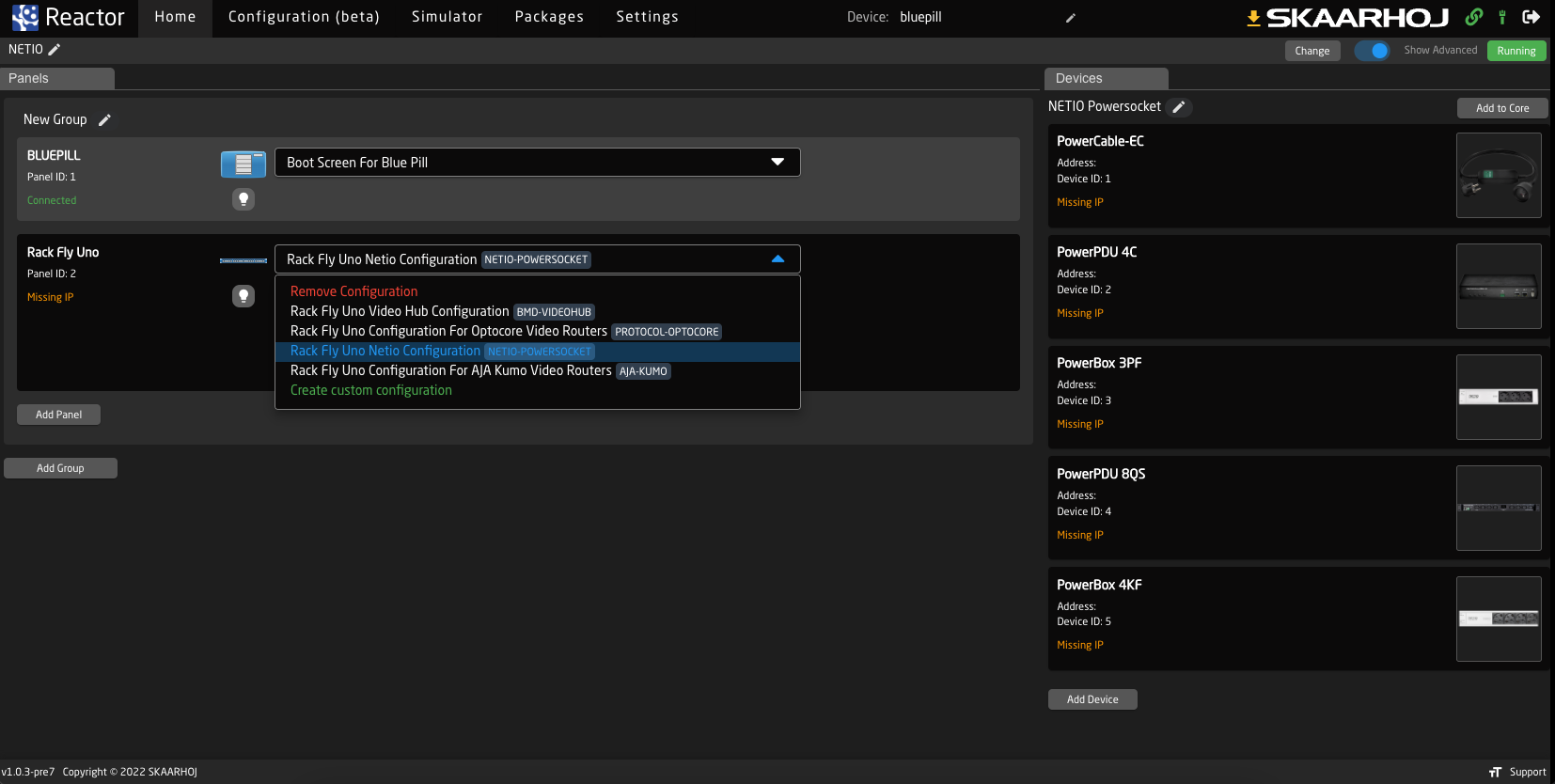 Bind NETIO PDU devices:
Final configuration
Final configuration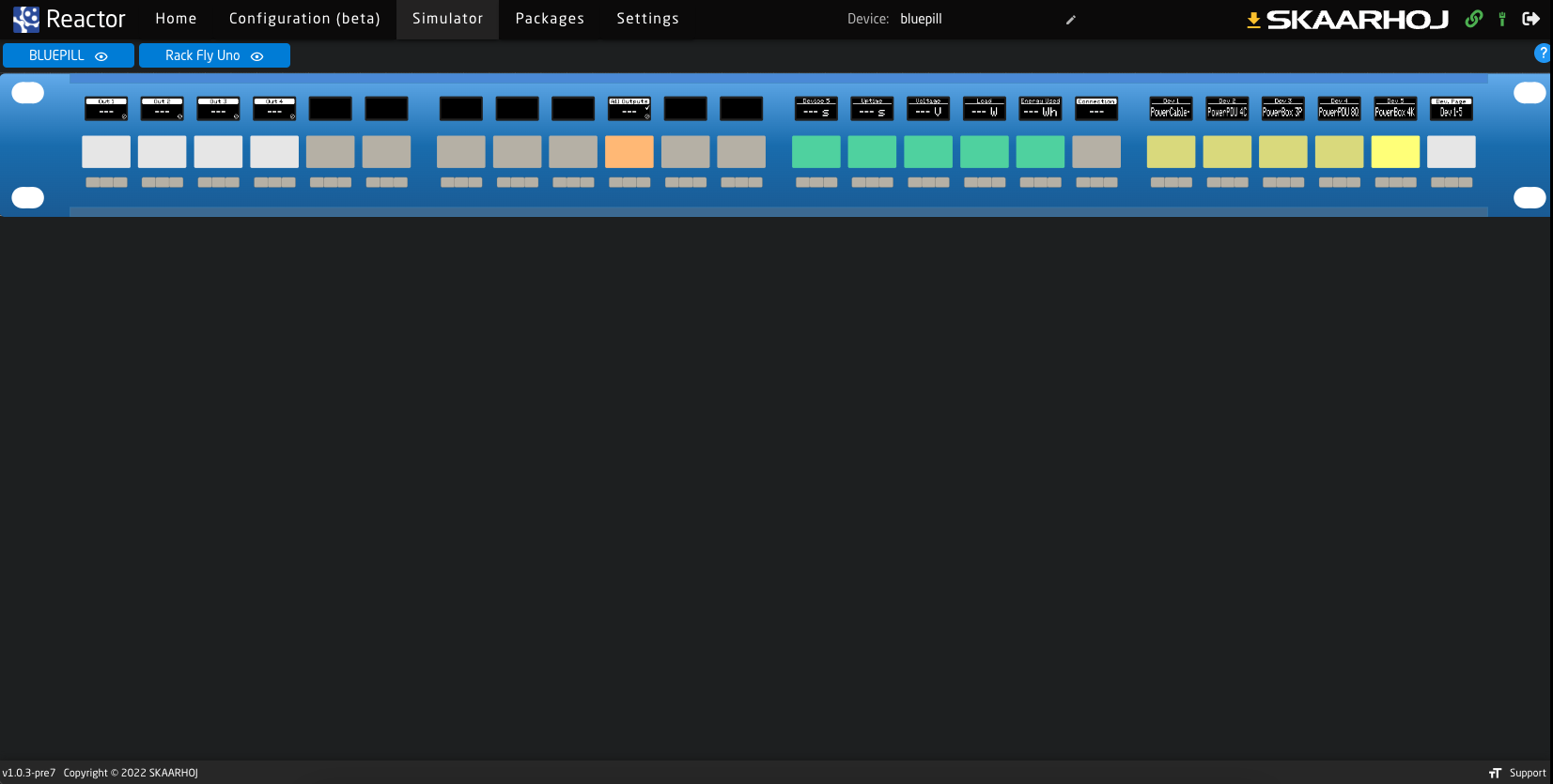 Integration with other brands
SKAARHOJ is integrated with many various AV brands. It can be used as interconnection platform.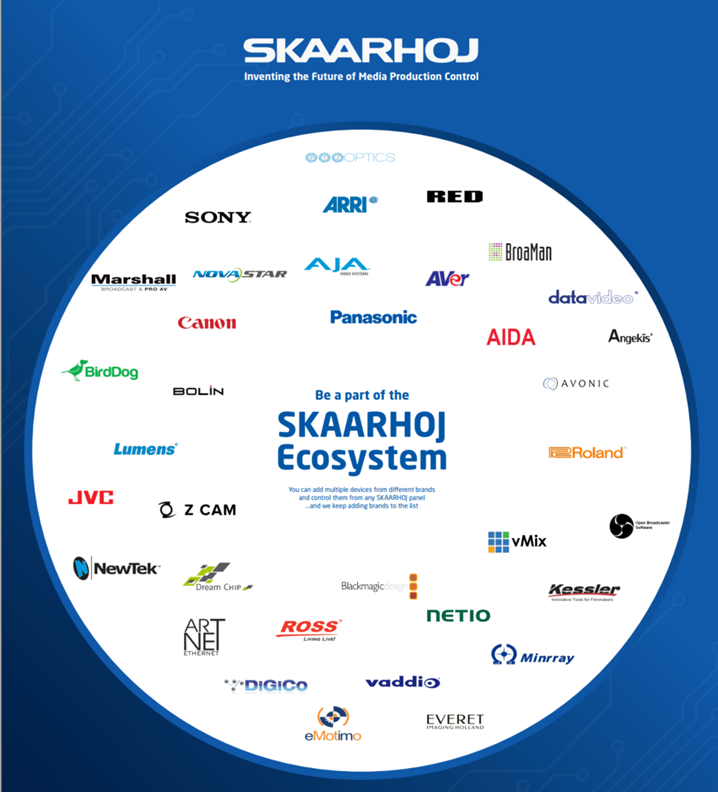 FAQ
1) Can be used SKAARHOJ system for controlling NETIO PDU from the ATEN or different brands?
Yes, with SKAARHOJ you can integrate almost anything with everything.