With NETIO Cloud, any electrical appliance powered from a power output of a NETIO device can be switched on/off or power-cycled over the Web. There is no limit to the number of NETIO devices connected to the Cloud.
Have you ever wasted two hours driving to a remote site and back just to press a RESET button? Save your time – use NETIO Cloud.
One webpage can control dozens and hundreds of electrical power outputs.
NETIO Cloud is a well-secured and reliable service provided by the manufacturer for a fee.
With each NETIO device, the customer receives a "Welcome credit" for about 3 years of operation in the NETIO Cloud free of charge.


Welcome credit will be loaded automatically the first time you connect your device to your account.
How does NETIO Cloud work?
Each user has a unique account at https://cloud.netio-products.com/
One user account can be linked to an unlimited number of devices.
Each output can be switched on/off or power-cycled over the Web.
However, each device can be connected to one NETIO Cloud account only.
All outputs are visible on a single screen.
The web page with the controls can be viewed on any device, including a mobile phone.
For metered outputs, the service displays the up-to-date overall consumption reading (kWh).
There is an event log that displays billing details for the last 24 hours.
Every output and every device can be given a name and assigned to a defined group.
Outputs can be sorted by groups (buildings, location, customer type, ...).
NETIO Cloud supports all NETIO devices
Pricing
Each data query consumes 1 or 2 NETIO Cloud credits. For details, see the Terms and Conditions
When a device is connected for the first time, the customer receives a "Welcome Credit" that is sufficient for about 3 years of "usual" operation of the given device type.
The "Welcome Credit" is added to the user account only once, when the new product is first connected NETIO Cloud.
When the user account credit drops to 0, the service stops working. The user is warned several times as the credit is getting low.
Additional credit can be purchased from NETIO distributors or in the NETIO products online store.
NETIO Cloud technical specifications
Cloud communicates with individual NETIO devices over MQTTs (TLS security).
In order to connect to NETIO Cloud, it must be possible to establish MQTT connections (port 8883) and, for the installation, HTTPs connections (port 443).
Primary and back-up servers for the service are located in Europe.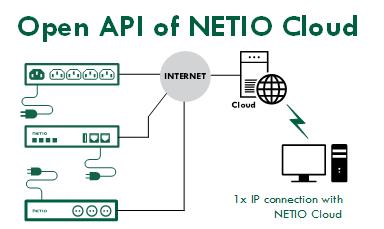 NETIO Cloud also provides Open API
Open API of NETIO Cloud
NETIO products connect to the NETIO Cloud service via the public internet. The service then allows controlling the products over the Web.
NETIO Cloud can also serve as a unified interface for all devices linked to the same user account.
With the Open API, all devices linked to the same user account can be controlled together.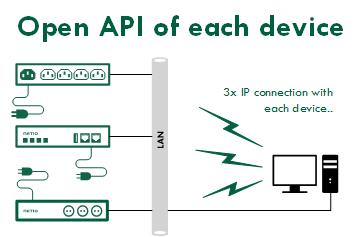 Open API of each device
NETIO products do not need the Cloud connection in order to function. They can work in a LAN only and connect to any local software using one of the many Open APIs supported by the individual devices.
NETIO-HEXIO Cloud
NETIO Cloud enables remote switching on/off and restarting.
We are working on the "NETIO-HEXIO cloud" project that will allow collecting and analyzing energy consumption data.
Do you need to collect data in the Cloud? Please contact us.
NETIO Cloud - public demo
Web access to NETIO Cloud online demo required login "demo@netio.eu" / "demodemo"
 
Some of here listed NETIO devices are connected to NETIO Cloud  public demo account
WEB communication with NETIO Cloud secured by: https
NETIO devices communication with NETIO Cloud secured by: MQTTS