With NETIO Cloud, you can switch On/Off or restart (power cycle) any electrical appliance powered by NETIO PDU power output. Several NETIO PDUs can be connected to one company account. Users can control PDU output(s) from the Mobile App (IOs & Android) or the NETIO Cloud Service web page. 
Save time by using the NETIO Remote Restarting Service. Instead of spending hours driving to a remote location, press a reset button on your mobile phone's screen from the comfort of your home.
On one screen you can control dozens and hundreds of electrical power outputs. 
NETIO Cloud is a well-secured and reliable service provided by the manufacturer NETIO Products for a fee. 
With each NETIO device, customers receive a "Welcome credit" which provides them with the opportunity to test all the features for free. The Welcome credit, which covers approximately one year of usual usage, is automatically loaded when you connect your device to your account for the first time.
NETIO Cloud Features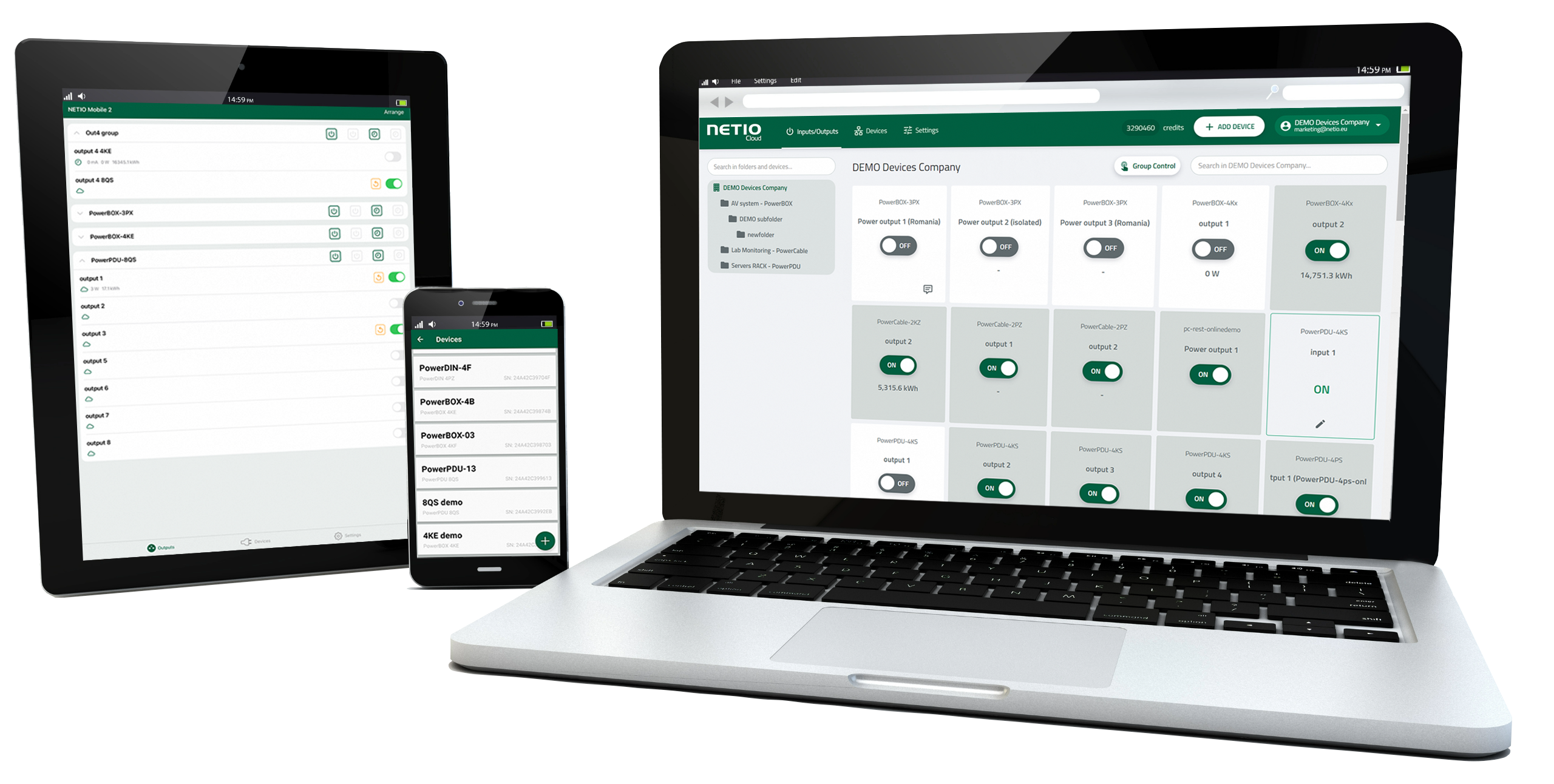 Remote PDU output control (from Mobile App or service website)
Multi-user feature for sharing devices in one company account
PDU Connection Alert feature sends email notifications for PDU disconnections (connection or power failure).
Grouping and sub-group structure of PDUs (folders structure)
You can define the User Rights (roles) for access control
Search functionality available for output and group names
Mobile App NETIO Mobile 2 available for Apple and Android devices with user rights management
Open API (MQTT) to the company account
You can download the Historical Power Measurement Data
Remote firmware upgrade
How does NETIO Cloud work?
NETIO Cloud is based on accounts called Organizations and Users.
User:
Each user has an account with unique login credentials.
Every user has to be a member of one or more organization(s) with appropriate rights to add & manage devices.
When a new user is registered, NETIO Cloud creates their private organization, and they become the sole admin of that organization.
Every user can be invited to other organization.
The Mobile App NETIO Mobile 2 will provide access to all organizations the user is invited to, enabling them to manage devices within those organizations based on their assigned roles.
Organization:
Devices can only be added to an organization (company).
Each device can be associated with only one NETIO Cloud organization.
Credits are calculated solely for organizations, not for individual users.
NETIO Cloud conveniently displays all PDU outputs on a single dashboard. The NETIO Cloud web GUI is optimized for mobile phones, ensuring a seamless user experience across devices.
Users can control each output from all devices from the organization dashboard (NETIO Cloud web). They can switch them On/Off or restart them (power-cycle).
For all power metered outputs is shown total Power Consumption [kWh]. Please note that the indication of actual load in amperes (A) may be available only with specific subscription plans.
NETIO Cloud generates Daily Billing Report (credit usage) for every organization.
Each device can be named and assigned to a specific group or sub-group
Admin can configure the User Roles to determine access rights for individual outputs or PDU devices.
The PDU Connection Alarm can be enabled for each device, triggering email notifications when the device loses or re-establishes connection.
NETIO Cloud - public demo
Web access to NETIO Cloud  online demo required login: "demo@netio.eu" / "demodemo"
Some of the listed NETIO devices are connected to NETIO Cloud public demo account.
WEB communication with NETIO Cloud secured by HTTPS
NETIO devices communicate with NETIO Cloud secured by TLS (MQTTs)
Login credetials:  "demo@netio.eu" / "demodemo"
Open API of NETIO Cloud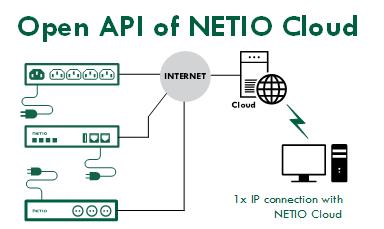 NETIO products connect to the NETIO Cloud service via the public internet. The service then allows controlling the products over the Web.
NETIO Cloud can also serve as an unified interface for all devices linked to the same user account.
With the Open API, you can control all devices connected to the same user account.
NETIO Cloud Pricing
NETIO Cloud uses a credit system to daily charge the costs based on the number of devices, users and subscription plan. Subscription plans differ in everyday price and supported features.
With a new device connecting to the NETIO Cloud service, NETIO grants its customers the "Welcome Credit" in the value of 50 000 Credits as a promotional benefit.
Cutomers can purchase new User Credits from authorized  NETIO Distributors or through the NETIO Products Online Shop.
100 000 Credits costs 12.5 EUR + VAT.
NETIO Credit is every time related to the organization (company) only. Please note that credit transfer between users and organizations is not possible.
The NETIO Cloud service stops working when the Credit amount drops to 0 credits:

The service notifies the user several times by e-mail (too low credit warning). NETIO Cloud provides a pop-up notification to allow users to add more credit depending on the subscription plan. During this period, users can still control connected devices. But it is not possible to pair new device. User will temporarily subscribe the Credits to negative value. When the user buys more credits, it will be deducted from them.
* The relative part is charged every day for every added device in the Credits
** Remote FW upgrade to the latest released firmware version only is possible.
Security/Technical Specifications
Devices are connected to NETIO Cloud over SSL-secured protocol MQTTs (TLS), Installation process using HTTPs.
2 Factor Authentication
You can secure your account beyond just user name and password with Two Factor Authentication (2FA).
Firewall settings
To connect devices with NETIO Cloud, stable MQTTs bi-directional connection is required on TCP port 8883 to broker.cloud.netio.eu.
The device installation/management process requires HTTPs bi-directional connections on TCP port 443 to titan.netio.eu.
Primary and backup servers for the NETIO Cloud service are located in the EU.