This electrical socket is common in: North and Central America, Japan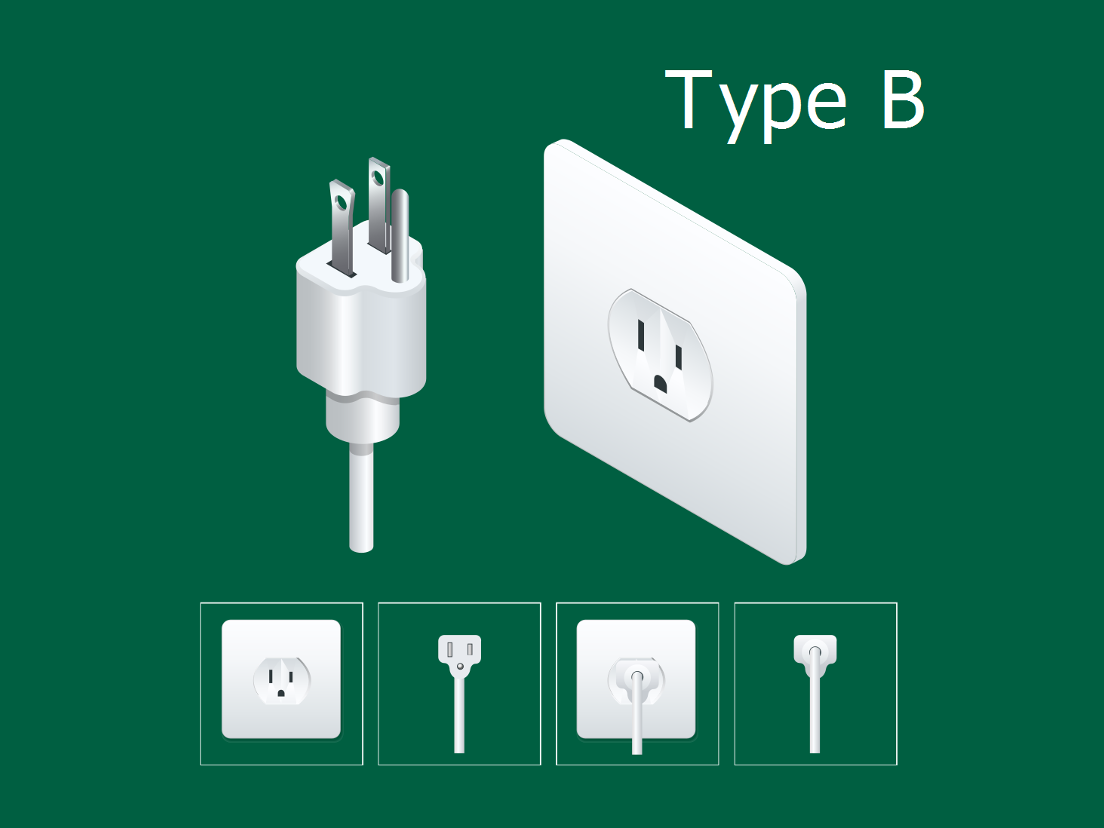 The Type B electrical socket (American standard NEMA 5-15) has two flat parallel pins and a round earth pin. The earth pin is longer than the flat pins so that the appliance is grounded before the power is applied. There are some minor differences between the US and the Japanese versions, as with the Type A plugs.
The Type B plug is used for currents up to 15 A.
Used in countries:
| | | |
| --- | --- | --- |
| American Samoa | 120V 60Hz | Power socket: Type A, Type B, Type F, Type I |
| Antigua and Barbuda | 230V 60Hz | Power socket: Type A, Type B |
| Aruba  | 127V 60Hz | Power socket: Type A, Type B,Type F |
| Bahamas  | 120V 60Hz | Power socket: Type A, Type B |
| Barbados  | 115V 50Hz | Power socket: Type A, Type B |
| Belize | 110V 220V 60Hz | Power socket: Type A, Type B,Type G |
| Bermuda  | 120V 60Hz | Power socket: Type A,Type B |
| BritishVirgin Islands  | 110V 60Hz | Power socket: Type A, Type B |
| Canada  | 120V 60Hz | Power socket: Type A, Type B |
| Cayman Islands | 120V 60Hz | Power socket: Type A, Type B |
| Colombia  | 110V 60Hz | Power socket: Type A, Type B |
| Costa Rica | 120V 60Hz | Power socket: Type A, Type B |
| Cuba  | 110V 60Hz | Power socket: Type A, Type B |
| Dominican Republic | 110V 60Hz | Power socket: Type A, Type B |
| Ecuador  | 120V 60Hz | Power socket: Type A, Type B |
| El Salvador | 115V 60Hz | Power socket: Type A, Type B |
| Guam  | 110V 60Hz | Power socket: Type A, Type B |
| Guatemala  | 120V 60Hz | Power socket: Type A, Type B |
| Guyana  | 240V 60Hz | Power socket: Type A, Type B, Type D,Type G |
| Haiti  | 110V 60Hz | Power socket: Type A, Type B |
| Honduras  | 110V 60Hz | Power socket: Type A, Type B |
| Jamaica  | 110V 50Hz | Power socket: Type A, Type B |
| Japan  | 100V 50Hz | Power socket: Type A, Type B |
| Jordan  | 230V 50Hz | Power socket: Type B,Type C,Type D,Type F,Type G, Type J |
| Lao People's Democratic Republic | 230V 50Hz | Power socket: Type A,Type B,Type C,Type E,Type F |
| Lebanon  | 220V 50Hz | Power socket:Type A,Type B,Type C,Type D, Type G |
| Liberia  | 120V 220V 50Hz, 60Hz | Power socket: Type A,Type B,Type C,Type E,Type F |
| Mexico  |  127V 60Hz | Power socket: Type A, Type B |
| Micronesia, Federated States | 120V 60Hz | Power socket: Type A, Type B |
| Montserrat  | 230V 60Hz | Power socket: Type A, Type B |
| Netherlands Antilles | 127V 220V 50Hz | Power socket: Type A,Type B,Type C,Type F |
| Nicaragua  | 120V 60Hz | Power socket: Type A, Type B |
| Niger  | 220V 50Hz | Power socket: Type A,Type B,Type C,Type D,Type E,Type F |
| Palau  | 120V 60Hz | Power socket: Type A, Type B |
| Panama  | 110V 60Hz | Power socket: Type A, Type B |
| Peru  | 220V 60Hz | Power socket: Type A,Type B,Type C |
| Philippines | 220V 60Hz | Power socket: Type A,Type B,Type C |
| Puerto Rico | 120V 60Hz | Power socket: Type A, Type B |
| Saint Kitts and Nevis | 230V 60Hz | Power socket: Type A, Type B,Type D,Type G |
| Taiwan  | 110V 60Hz | Power socket: Type A, Type B |
| Thailand  | 220V 50Hz | Power socket: Type A,Type B,Type C,Type F |
| Trinidad and Tobago | 115V 60Hz | PPower socket: Type B, Type C, Type Fower socket: Type A, Type B |
| Turkmenistan | 220V 50Hz | Power socket: Type B, Type C, Type F |
| Turks and Caicos Islands | 120V 60Hz | Power socket: Type A, Type B |
| United States of America  | 120V 60Hz | Power socket: Type A, Type B |
| United States Virgin Islands | 110V 60Hz | Power socket: Type A, Type B |
| Venezuela | 120V 60Hz | Power socket: Type A, Type B |