This electrical socket is common in: Europe except for GB, Ireland, Cyprus and Malta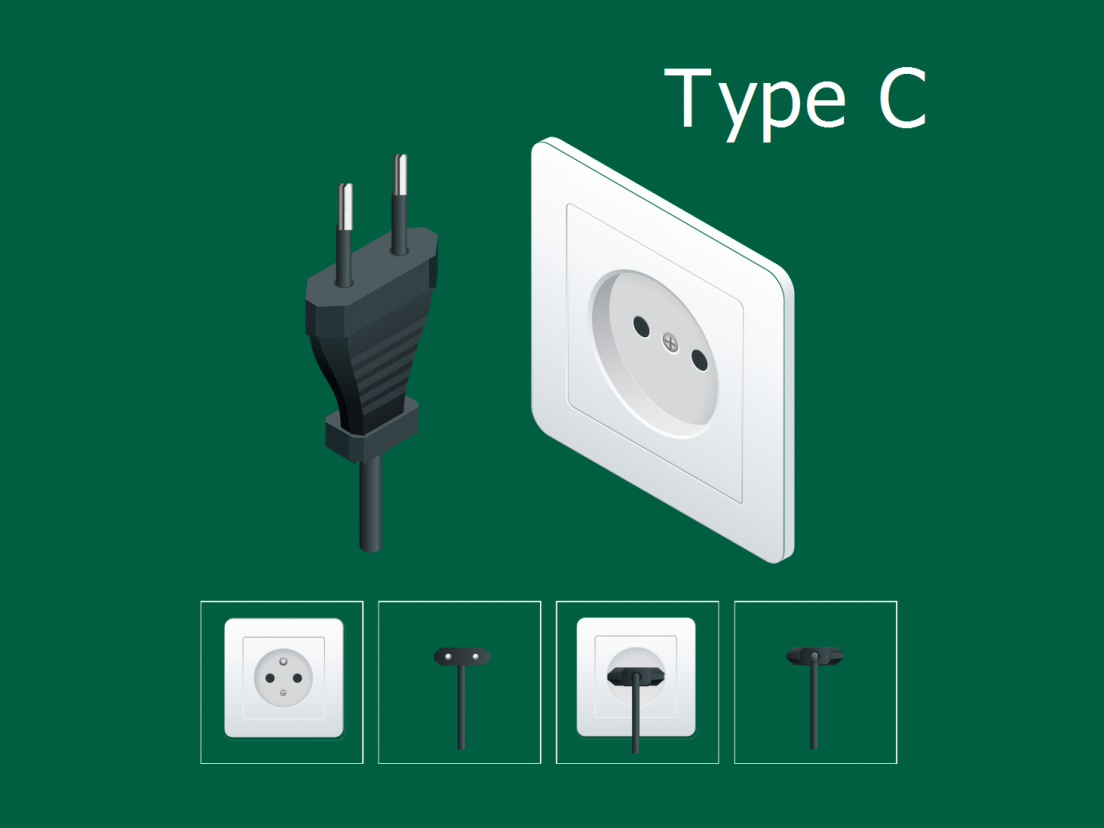 The Type C plug (also called the Europlug) has two round pins.  The pins are 4 to 4.8 mm wide with centers that are spaced 19 mm apart; the plug fits any socket that conforms to these dimensions. It also fits into Type E, F, J, K or N sockets that often replace the Type C socket.
Type C plugs are generally limited to a maximum of 2.5 A.
Used in countries:
Afghanistan 
220V 50Hz
Power socket: Type C, Type F
Albania 
230V 50Hz
Power socket: Type C, Type F
Andorra 
230V 50Hz
Power socket: Type C, Type F
Angola 
220V 50Hz
Power socket: Type C
Argentina 
220V 50Hz
Power socket: Type C, Type I
Armenia 
230V 50Hz
Power socket: Type C, Type F
Austria 
230V 50Hz
Power socket: Type C, Type F
Azerbaijan 
220V 50Hz
Power socket: Type C, Type F
Bangladesh 
220V 50Hz
Power socket: Type C, Type D,Type G,Type K
Belarus 
220V 50Hz
Power socket: Type C, Type F
Belgium 
230V 50Hz
Power socket: Type C, Type E
Benin 
220V 50Hz
Power socket: Type C, Type E
Bhutan 
230V 50Hz
Power socket: Type C, Type D,Type F,Type G,Type M
Bolivia
115V 230V 50Hz
Power socket: Type A, Type C
Bosnia and Herzegovina
230V 50Hz
Power socket: Type C, Type F
Brazil 
127V 220V 60Hz
Power socket: Type C,Type N
Bulgaria 
230V 50Hz
Power socket: Type C, Type F
Burkina Faso
220V 50Hz
Power socket: Type C, Type E
Burundi 
220V 50Hz
Power socket: Type C, Type E
Cambodia 
230V 50Hz
Power socket: Type A, Type C, Type G
Cameroon 
220V 50Hz
Power socket: Type C, Type E
CapeVerde
220V 50Hz
Power socket: Type C, Type F
Central African Republic
220V 50Hz
Power socket: Type C, Type E
Chad 
220V 50Hz
Power socket: Type C, Type D, Type E, Type F
Chile 
220V 50Hz
Power socket: Type C, Type L
China 
220V 50Hz
Power socket: Type A, Type C, Type I
Comoros 
220V 50Hz
Power socket: Type C, Type E
Congo 
230V 50Hz
Power socket: Type C, Type E
Congo 
220V 50Hz
Power socket: Type C, Type D, Type E
Cote d'Ivoire
230V 50Hz
Power socket: Type C, Type E
Croatia 
230V 50Hz
Power socket: Type C, Type F
Czech Republic
230V 50Hz
Power socket: Type C, Type E
Denmark 
230V 50Hz
Power socket: Type C, Type F, Type E, Type K
Djibouti 
220V 50Hz
Power socket: Type C, Type E
Egypt 
220V 50Hz
Power socket: Type C, Type F
Equatorial Guinea
220V 50Hz
Power socket: Type C, Type E
Eritrea 
230V 50Hz
Power socket: Type C,Type L
Estonia 
230V 50Hz
Power socket: Type C, Type F
Ethiopia 
220V 50Hz
Power socket: Type C, Type E , Type F,Type L
Faroe Islands
230V 50Hz
Power socket: Type C, Type F, Type E, Type K
Finland 
230V 50Hz
Power socket: Type C, Type F
France 
230V 50Hz
Power socket: Type C, Type E
French Guiana
220V 50Hz
Power socket: Type C, Type D,Type E
Gabon 
220V 50Hz
Power socket: Type C
Georgia
220V 50Hz
Power socket: Type C, Type F
Germany 
230V 50Hz
Power socket: Type C, Type F
Gibraltar 
240V 50Hz
Power socket: Type C, Type G
Greece 
230V 50Hz
Power socket: Type C, Type F
Greenland 
230V 50Hz
Power socket: Type C, Type F, Type E, Type  K
Guadeloupe 
230V 50Hz
Power socket: Type C, D, E
Guinea 
220V 50Hz
Power socket: Type C, Type F, K
Guinea Bissau
220V 50Hz
Power socket: Type C
Hungary 
230V 50Hz
Power socket: Type C, Type F
Iceland 
230V 50Hz
Power socket: Type C, Type F
India 
230V 50Hz
Power socket: Type C, Type D, Type M
Indonesia 
220V 110V 50Hz
Power socket: Type C, Type F
Iran 
220V 50Hz
Power socket: Type C, Type F
Iraq 
230V 50Hz
Power socket: Type C, Type D, Type G
Isle of Man
240V 50Hz
Power socket: Type C, Type G
Israel 
230V 50Hz
Power socket: Type C, Type H, Type M
Italy 
230V 50Hz
Power socket: Type C, Type F, Type L
Jordan 
230V 50Hz
Power socket: Type B, Type C, Type D, Type F, Type G, Type J
Kazakhstan 
220V 50Hz
Power socket: Type C, Type F
Korea, Democratic People's Republic
220V 110V 50Hz, 60Hz
Power socket: Type: A, Type C, Type F
Korea
220V 60Hz
Power socket: Type C, Type F
Kuwait 
240V 50Hz
Power socket: Type C, Type G
Kyrgyzstan 
220V 50Hz
Power socket: Type C, Type F
Lao People's Democratic Republic
230V 50Hz
Power socket: Type A,Type B, Type C, Type E, Type F
Latvia 
230V 50Hz
Power socket: Type C, Type F
Lebanon 
220V 50Hz
Power socket: Type A,Type B, Type C, Type D, Type G
Liberia 
120V 220V 50Hz, 60Hz
Power socket: Type A,Type B, Type C, Type E, Type F
Libya 
127V 230V 50Hz
Power socket: Type C, Type D, Type F, Type L
Liechtenstein 
230V 50Hz
Power socket: Type C, Type J
Lithuania 
220V 50Hz
Power socket: Type C, Type F
Luxembourg 
230V 50Hz
Power socket: Type C, Type F
Macedonia 
230V 50Hz
Power socket: Type C, Type F
Madagascar 
127V 220V 50Hz
Power socket: Type C, Type D, Type E, Type J, K
Malaysia 
240V 50Hz
Power socket: Type A, Type C, Type G, Type M
Maldives 
230V 50Hz
Power socket: Type A, Type C, Type D, Type G, Type J, K, Type L
Mali 
220V 50Hz
Power socket: Type C, Type E
Martinique 
220V 50Hz
Power socket: Type C, Type D, Type E
Mauritania 
220V 50Hz
Power socket: Type C
Mauritius 
230V 50Hz
Power socket: Type C, Type G
Moldova 
220V 50Hz
Power socket: Type C, Type F
Monaco 
230V 50Hz
Power socket: Type C, Type D, Type E, Type F
Mongolia 
220V 50Hz
Power socket: Type C, Type E
Montenegro 
230V 50Hz
Power socket: Type C, Type F
Morocco 
127V 220V 50Hz
Power socket: Type C, Type E
Mozambique 
220V 50Hz
Power socket: Type C, Type F, Type M
Myanmar 
230V 50Hz
Power socket: Type C, Type D, Type F, Type G
Nepal 
230V 50Hz
Power socket: Type C, Type D, Type M
Netherlands 
230V 50Hz
Power socket: Type C, Type F
Netherlands Antilles
127V 220V 50Hz
Power socket: Type A, B, Type C, Type F
New Caledonia
220V 50Hz
Power socket: Type C, Type F
Niger 
220V 50Hz
Power socket: Type A, B, Type C, Type D, Type E, Type F
Norway 
230V 50Hz
Power socket: Type C, Type F
Oman 
240V 50Hz
Power socket: Type C, Type G
Pakistan 
230V 50Hz
Power socket: Type C, Type D, Type G, Type M
Paraguay 
220V 50Hz
Power socket: Type C
Peru 
220V 60Hz
Power socket: Type A, B, Type C
Philippines
220V 60Hz
Power socket: Type A, Type B, Type C
Poland 
230V 50Hz
Power socket: Type C, Type E
Portugal 
230V 50Hz
Power socket: Type C, Type F
Romania 
230V 50Hz
Power socket: Type C, Type F
Russia 
220V 50Hz
Power socket: Type C, Type F
Rwanda 
230V 50Hz
Power socket: Type C, Type J
Saint Martin
120V 220V 60Hz
Power socket: Type C, Type F
Saint Vincent and the Grenadines
230V 50Hz
Power socket: Type A, Type C, Type E, Type G, Type I, Type K
San Marino
230V 50Hz
Power socket: Type C, Type F, Type L
Sao Tome and Principe
220V 50Hz
Power socket: Type C, Type F
Senegal 
230V 50Hz
Power socket: Type C, Type D, Type E, Type K
Serbia 
230V 50Hz
Power socket: Type C, Type F
Singapore 
230V 50Hz
Power socket: Type C, Type G, Type M
Slovakia 
230V 50Hz
Power socket: Type C, Type E
Slovenia 
230V 50Hz
Power socket: Type C, Type F
Somalia 
220V 50Hz
Power socket: Type C
South Africa
230V 50Hz
Power socket: Type C, Type D, Type M, N
Spain 
230V 50Hz
Power socket: Type C, Type F
Sudan 
230V 50Hz
Power socket: Type C, Type D
Suriname 
127V 60Hz
Power socket: Type C, Type F
Sweden 
230V 50Hz
Power socket: Type C, Type F
Switzerland  
230V 50Hz
Power socket: Type C, Type J
Syrian Arab Republic
220V 50Hz
Power socket: Type C, Type E, Type L
Tajikistan 
220V 50Hz
Power socket: Type C, Type F, Type I
Thailand 
220V 50Hz
Power socket: Type A, Type B, Type C, Type F
Timor-Leste
220V 50Hz
Power socket: Type C, Type E, Type F, Type I
Togo 
220V 50Hz
Power socket: Type C
Tunisia 
230V 50Hz
Power socket: Type C, Type E
Turkey 
220V 50Hz
Power socket: Type C, Type F
Turkmenistan 
220V 50Hz
Power socket: Type B, Type C, Type F
Ukraine 
220V 50Hz
Power socket: Type C, Type F
United Arab Emirates
220V 50Hz
Power socket: Type C, Type D, Type G
Uruguay 
230V 50Hz
Power socket: Type C, Type F, Type I, Type L
Uzbekistan 
220V 50Hz
Power socket: Type C, Type I
Vanuatu 
220V 50Hz
Power socket: Type C, Type G, Type I
Vietnam 
220V 50Hz
Power socket: Type A, Type C, Type F
Zambia 
230V 50Hz
Power socket: Type C, Type D, Type G