New firmware 3.1.3 is now released. New features were added - the most interesting is the Reverse Energy metering and more SNMP API options were added.
 The newest FW is applicable to these devices: 
PowerPDU 4PS
PowerDIN 4PZ
PowerBOX 3Px
PowerBOX 4Kx
PowerCable REST 101x
Download the newest firmware: https://www.netio-products.com/en/firmware-archive-netio
Reverse Energy metering [Wh]
Reverse Energy Meter counts energy delivered back to the grid. Reverse Energy [Wh], also known as Energy Backfeeding is the flow of electric power in the direction reverse to that of the generally understood or typical flow of power. Depending on the source of the power, this reverse flow may be intentional or unintentional.
The Reverse Energy (supplied energy) value is useful typically for monitoring of:
Wind turbines
Photovoltaic systems
Mikro CHP (Cogeneration Units)
It can help identify the unintentional backfeeding in other cases.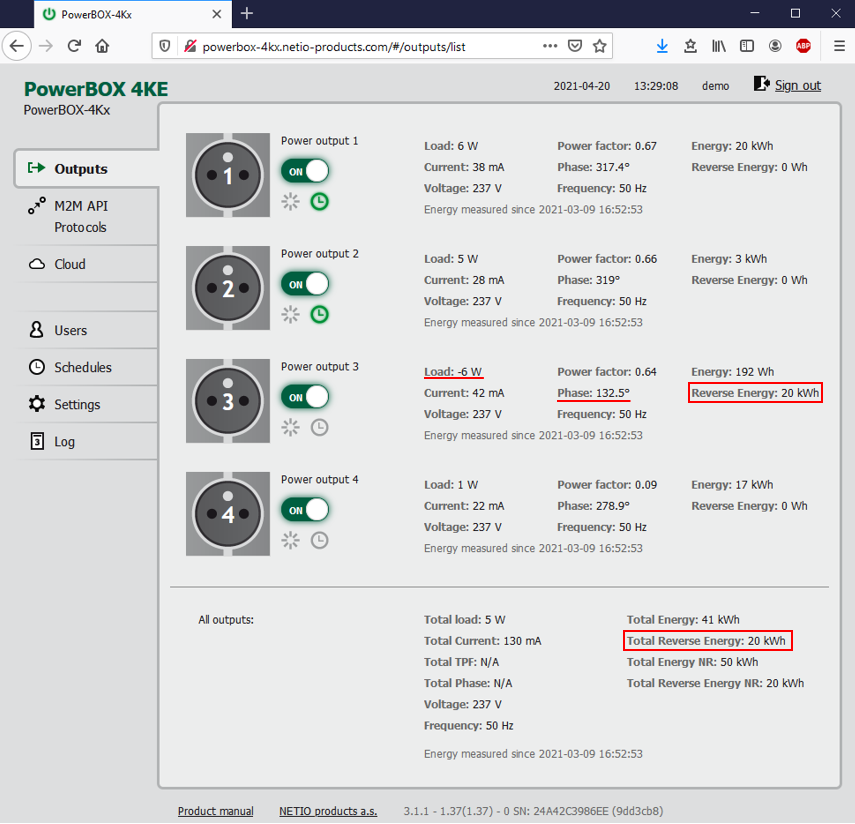 More SNMP API options
The new FW bring more options to usage of SNMP protocol:
All devices now support SNMP v3 which provides better security compared to SNMP v1/v2
Now it is possible to run SNMP in parallel to other Open API protocol. This is beneficial to those of you, who wants to integrate with existing SNMP monitoring system, but control the NETIO power socket from different control system.
Firmware 3.1.3 also includes...
Improved firmware upgrade process
MQTT-flex: Longer username (128 chars) a password (256 chard) support for compatibility with MS Azure
 Added non-resetable Energy counters - Energy NR, Reverse Energy NR, Total Energy NR, Total Reverse Energy NR
Adjustment of the Phase range: 0° - 360°
Adjustment of electrical measurement in web administration