This electrical socket is common in: GB, Ireland, Cyprus, Malta, Malaysia, Singapore, Hong Kong, ...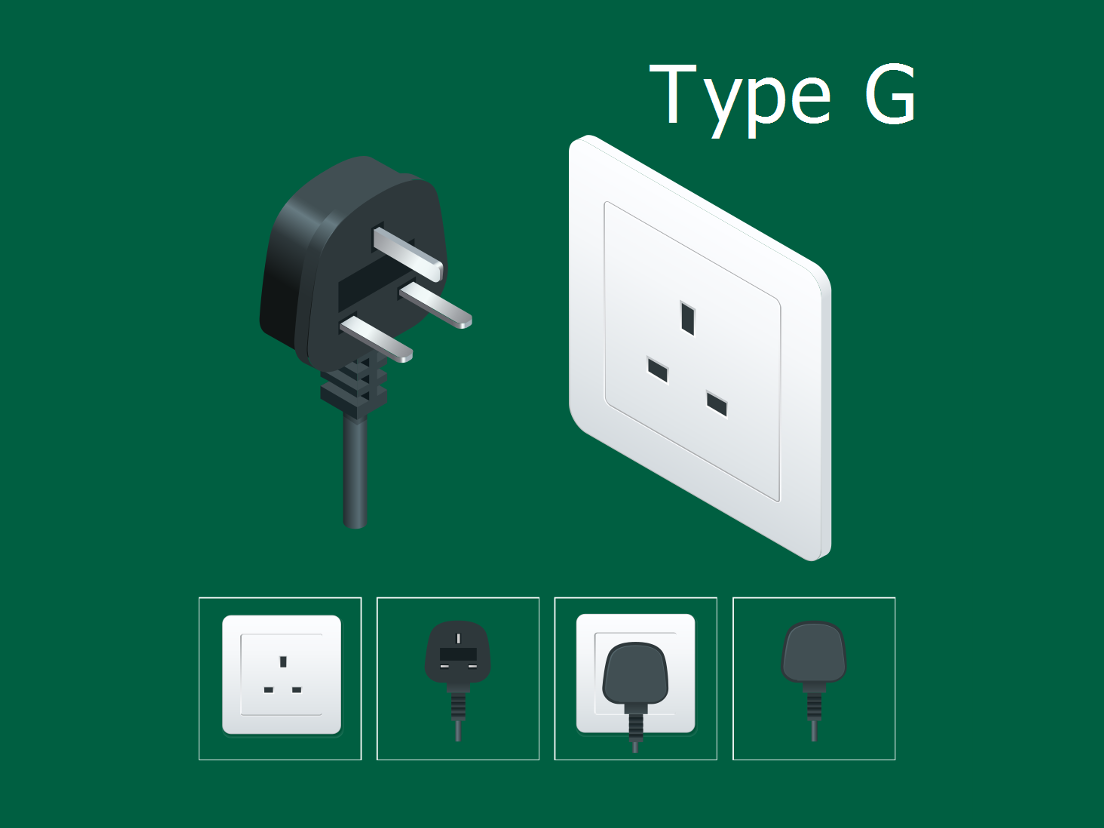 The Type G plug has three rectangular pins in a triangular pattern and includes a fuse (usually a 3A fuse for smaller appliances, such as computers, or a 13A fuse for larger appliances, such as heaters). British sockets also have shutters on the live and neutral contacts to prevent the introduction of foreign objects.
The Type G plug is used for currents up to 13 A.
Used in countries:
| | | |
| --- | --- | --- |
| Bahrain  | 230V 50Hz | Power socket: Type G |
| Bangladesh  | 220V 50Hz | Power socket: Type C, Type D, Type G, Type K |
| Belize  | 110V 220V 60Hz | Power socket: Type A, Type B, Type G |
| Bhutan  | 230V 50Hz | Power socket: Type C, Type D, Type F, Type G, Type M |
| Botswana  | 230V 50Hz | Power socket: Type D, Type G, Type M |
| Brunei Darussalam | 240V 50Hz | Power socket: Type G |
| Cambodia  | 230V 50Hz | Power socket: Type A, Type C, Type G |
| Cyprus  | 240V 50Hz | Power socket: Type G |
| Dominica  | 230V 50Hz | Power socket: Type D, Type G |
| Falkland Islands (Malvinas)  | 240V 50Hz | Power socket: Type G |
| Gambia  | 230V 50Hz | Power socket: Type G |
| Ghana  | 230V 50Hz | Power socket: Type D, Type G |
| Gibraltar  | 240V 50Hz | Power socket: Type C, Type G |
| Grenada  | 230V 50Hz | Power socket: Type G |
| Guyana  | 240V 60Hz | Power socket: Type A, Type B, Type D, Type G |
| Hong Kong | 220V 50Hz | Power socket: Type G, Type D |
| Iraq  | 230V 50Hz | Power socket: Type C, Type D, Type G |
| Ireland  | 230V 50Hz | Power socket: Type G |
| Isle of Man | 240V 50Hz | Power socket: Type C, Type G |
| Jordan  | 230V 50Hz | Power socket: Type B, Type C, Type D, Type F, Type G, Type J |
| Kenya  | 240V 50Hz | Power socket: Type G |
| Kuwait  | 240V 50Hz | Power socket: Type C, Type G |
| Lebanon  | 220V 50Hz | Power socket: Type A, Type B, Type C, Type D, Type G |
| Macau  | 220V 50Hz | Power socket: Type D, Type M, Type G, Type F |
| Malawi  | 230V 50Hz | Power socket: Type G |
| Malaysia  | 240V 50Hz | Power socket: Type A, Type C, Type G, Type M |
| Maldives  | 230V 50Hz | Power socket: Type A, Type C, Type D, Type G, Type J, Type K, Type L |
| Malta  | 230V 50Hz | Power socket: Type G |
| Mauritius  | 230V 50Hz | Power socket: Type C, Type G |
| Myanmar  | 230V 50Hz | Power socket: Type C, Type D, Type F, Type G |
| Nigeria  | 230V 50Hz | Power socket: Type D, Type G |
| Oman  | 240V 50Hz | Power socket: Type C, Type G |
| Pakistan  | 230V 50Hz | Power socket: Type C, Type D, Type G, Type M |
| Qatar  | 240V 50Hz | Power socket: Type D, Type G |
| Saint Kitts and Nevis  | 230V 60Hz | Power socket: Type A, Type B, Type D, Type G |
| Saint Lucia | 240V 50Hz | Power socket: Type G |
| SaintVincent and the Grenadines | 230V 50Hz | Power socket: Type A, Type C, Type E, Type G, Type I, Type K |
| Saudi Arabia | 220V 230V 60Hz | Power socket: Type G |
| Seychelles  | 240V 50Hz | Power socket: Type G |
| Sierra Leone | 230V 50Hz | Power socket: Type D, Type G |
| Singapore  | 230V 50Hz | Power socket: Type C, Type G, Type M |
| Solomon Islands | 220V 50Hz | Power socket: Type I, Type G |
| Sri Lanka | 230V 50Hz | Power socket: Type D, Type M, Type G |
| Tanzania  | 230V 50Hz | Power socket: Type D, Type G |
| Uganda  | 240V 50Hz | Power socket: Type G |
| United Arab Emirates | 220V 50Hz | Power socket: Type C, Type D, Type G |
| United Kingdom | 230V 50Hz | Power socket: Type G |
| Vanuatu  | 220V 50Hz | Power socket: Type C, Type G, Type I |
| Yemen  | 230V 50Hz | Power socket: Type A, Type D, Type G |
| Zambia  | 230V 50Hz | Power socket: Type C, Type D, Type G |
| Zimbabwe  | 220V 50Hz | Power socket: Type D, Type G |